Bestand e-mail vanuit Outlook met eFiler – het is snel en gemakkelijk.
Autopilot-archiveringssuggesties voorspellen nauwkeurig de juiste project- of klantenmap voor het archiveren van uw e-mail. Filter resultaten en schakel sneltoetsen in voor snelle toetsenbordtoegang tot archiverings- en zoekfuncties rechtstreeks vanuit Outlook.
Verken Cloud Sync of het eFiler Drop-paneel om e-mailarchivering via slepen en neerzetten in te schakelen. Configureer voor herhaalde archivering regels voor automatische e-mailarchivering.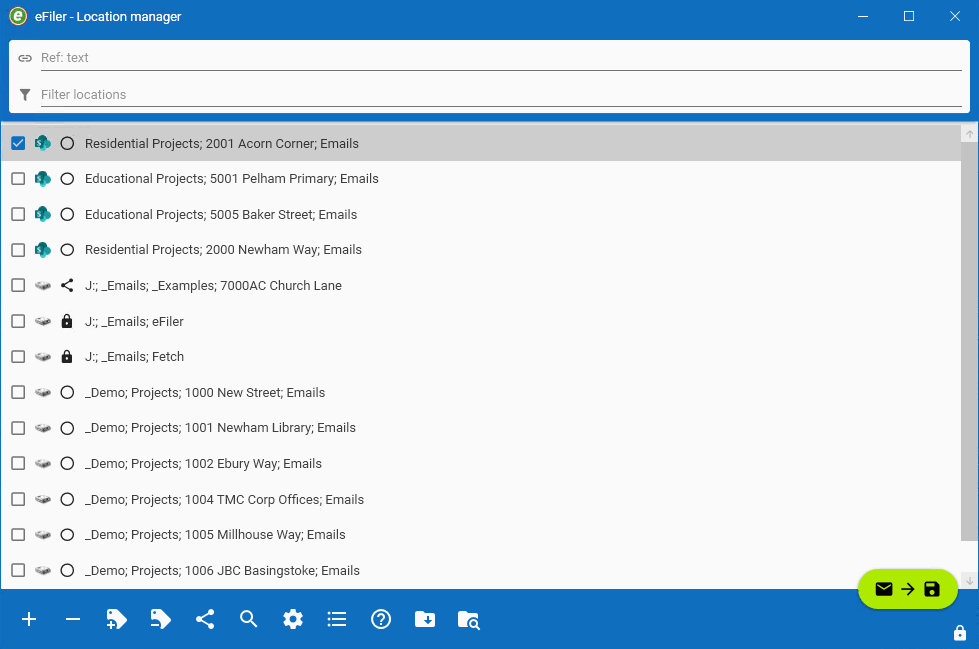 Exporteer een Outlook-map, de bijbehorende submappen en alle e-mails die ze bevatten door de mappenstructuur in één eenvoudige handeling te repliceren.

Sla e-mail vanuit Outlook op in mappen of submappen zonder ze aan uw lijst met locaties toe te voegen.

Label uw locaties met bekende tags of referenties om opslaglocaties gemakkelijk te identificeren en te filteren (verberg UNC-paden).

Gebruik het filter om snel een label of project-/klantopslaglocatie te vinden.

Voer een indieningsreferentie in het vak Ref: in om te helpen voldoen aan uw QA-schema.

Bestand e-mail vanuit Outlook rechtstreeks naar Box, BIM360, Dropbox, Google Drive, OneDrive (Personal & Business), SharePoint en DriveHQ-accounts via WebDAV voor echte cloudopslag en zoeken zonder dat er synchronisatiesoftware hoeft te zijn geïnstalleerd.
Start uw 14-daagse proefperiode
Download en installeer eFiler voor Outlook vandaag nog en ervaar zelf de voordelen.